Hon. Kadi Adamu Usman was born on 17th May, 1962 in Bula Barde village via Komfulata District of Kwami Local Government Area, Gombe State. He attended Qur'anic School and Religious Knowledge at Buba Barde from 1966 to 1969, Dalibta for Arabic and Islamic Studies 1969 – 1974, Madatai Primary School Kano 1972 – 1975, School for Arabic Studies Kano 1975 – 1979. Having attended University of Sokoto now Usman Danfodiyo University Sokoto and obtained LL.B (Hons) 1980 – 1986, he proceeded to the Nigerian Law School, Lagos Campus between 1986 – 1987 and was call to the Nigerian Bar in 1988. In 1993, he further attended Nigerian Institute of Advanced Legal Studies, Lagos and obtained Certificate on Legal Drafting.
The Academic who speaks Fulfulde, Hausa, Arabic, English and French Languages is a scholar in Arabic Literature and has presented many papers on Arabic Literature and Language; he has been a resource person to over 19 students of Arabic Literature ranging from Ph.D, Masters and Degree programs from Universities of Usman Danfodiyo, Bayero, Jos, Kashere and Maiduguri. He also wrote over 300 works in Arabic, 104 in Hausa and 3 in English Languages. His Lordship held many responsibilities during his school days such as Prefect, President- LAWSAN Usman Danfodiyo University Sokoto, Chairman- Hall Management Usman Danfodiyo University Sokoto etc.
The Hon Kadi started his working career as Class Teacher between 1979 – 1980, Higher Registrar (Appeals) High Court of Justice Bauchi State 1987 – 1988 and State Counsel, Ministry of Justice, Bauchi State 1988 – 1993. Appointed and served as Deputy Chief Registrar, Sharia Court of Appeal, Bauchi State between 1993 – 1996. He later became Private Legal Practitioner in 1996 until 2013 where he was appointed and sworn-in as Hon. Kadi of the Gombe State Sharia Court of Appeal to date.
From 1988 to 2020 His Lordship has been a Member of various Committees and Election Petition Tribunals in Nigeria among which are Member, Bauchi State Judicial Disciplinary Committee, 1994; Member Gombe State Amirul Hajj Team, 2002; Member, Governorship Election Tribunal, Edo State; Member, National and State Houses of Assembly Election Petition Tribunal, Kogi State etc. He has personal achievements as Legal Practitioner official and private Bar, Presidential Trophy Winner for West Africa Hausa Poetry Competition 1982, successful farmer and many more.
The jury is a member of Nigerian Bar Association, Arabic Writers Association, Fulfulde Writers Association and Kungiyar Marubuta da Manazarta Wakokin Hausa ta Najeriya. He is happily married with children and his hobbies are Poetry, Linguistics, Philosophy, Farming and Advocacy.
His Lordship was born in the year 1962 into the family of Alh. Abbayo Hassan (of Blessed memory) and Hajiya Aishatu Abbayo.
He commenced primary education at Central Primary School, Gombe, now renamed Hassan Central Primary School in the late 60s. After Primary education, he was admitted at Government Secondary School, Billiri in 1976 where he graduated in the year 1981 and thereafter proceeded to College of Science and Preliminary Studies, Gombe from 1981 – 1982.
His Lordship enrolled for the I.J.M.B. ('A') levels at the Bauchi College of Arts and Science, Bauchi in the year 1982 and graduated in 1984 whereupon he gained admission to read Law at the famous University of Sokoto, now Usumanu Danfodio University and graduated with LL.B Common Law and Sharia   (Combined) in the year 1988.
To fulfill all requirements in the Legal profession, his Lordship went to the Nigerian Law School (NLS) in Victoria Island, Lagos, in the year 1988 and was duly called to the Nigerian Bar in December, 1989 while serving the mandatory National Youth Service in Maiduguri, Borno State.
His Lordship was awarded membership of the Institute of Industrialists and Corporate Administrators of Nigeria (miica) on the 27th June, 2002 and was later made a fellow of the same Institute.
Life for His Lordship Hassan Bello Abbayo had never been idle. At various tunes he was appointed and/ or served as:
| | |
| --- | --- |
| A clerk to the Students Representative Council, Bauchi College of Arts and Science Bauchi | 1983 – 1984 |
| Lecturer at Law, Department of Business Studies, Ramat Polytechnic, Maiduguri | 1989 – 1990 |
| Supervisor of Education, Gombe Local Government Education Authority, Gombe | 1990 – 1993 |
| Private Legal Practitioner with B.A Yahaya & Co; NIDB House, Bauchi and Mohammed Wabili & Co; Ran Road, Bauchi | 1994 -1997 |
| Principal Manager (Administration), Gombe State Water Corporation, Abubakar Hashidu House, Pantami, Gombe | 2000 – 2003 |
| Member, Gombe State Local Government Election Petition Tribunal | 2001 – 2003 |
| Appointed and Served as Senior Magistrate and later Chief Magistrate Gombe State Judiciary | 2003 –2007 |
| Served as the Chief Registrar, Sharia Court of Appeal, Gombe State |  2007 – 2014 |
| Appointed Hon. Kadi of the Sharia Court of Appeal, Gombe |  2014 – date |
His Lordship had travelled widely to many Continents and attended many International Conferences, Workshops and Seminars in Europe, Asia, USA and the Americas and also attended many Conferences and Workshops organized within Nigeria by the National Judicial Institute and the Centre for Islamic Studies, Ahmadu Bello University, Zaria. He married Hajiya Zuwaira Muhammed Tukur on the 19th day of April 1991 and the marriage was blessed with five Children.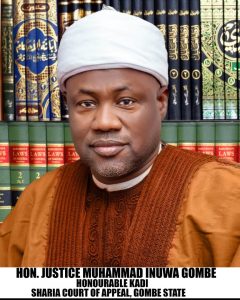 Hon. Kadi Muhammad Inuwa Gombe was born on 10th March, 1964 in Gombe. He attended St. Paul's Primary School, Jenta, Jos (1972-1978), Government Secondary School, Dass, Bauchi State (1978-1983), Bauchi College of Arts and Science [BACAS] (1983-1985), and University of Jos (1985-1988) where he obtained his Bachelor of Laws (LL.B) Hons. He was called to the Nigerian Bar in July, 1992. Driven by thirst for further knowledge, he obtained a Bachelor's and Master's Degrees in Islamic Studies from Gombe State University (2011), and University of Jos (2016), respectively. He studied the Glorious Qur'an and has gained knowledge on general Islamic Jurisprudence under the tutelage of distinguished and reputable Islamic Scholars across Nigeria.
His Lordship has worked in various capacities including Assistant Lecturer in Law at the College for Legal & Islamic Studies, Misau, Deputy Manager (Legal) Inland Bank Nigeria PLC and was in active private Legal Practice between 1992-2001. He was Principal Partner/Head of Al-Mizan Chambers, Jos when he was appointed a Deputy Chief Registrar, Gombe State Sharia Court of Appeal in 2001. He thereafter became Chief Registrar of the Court in 2014, a position he held until he was elevated and sworn-in as Hon. Kadi of Gombe State Sharia Court of Appeal in May, 2018.
In addition to several posts of responsibilities held as well as notable community development activities and affiliations, His Lordship has attended various local and global seminars/workshops/conferences and high-level professional and allied engagements, delivered papers and made contributions. Some of his writings include:
A Study of Alternative Dispute Resolution in the Light of the Shari'ah
Marriage and Divorce under Islamic Personal Law
Dissolution of Islamic Marriages by Judicial Process: An Appraisal of its Practice and Application in Gombe State
Criminal and Civil Procedures in Sharia Courts
The Role of Sharia/Area Courts Judges in Determining Issues Relating to Islamic Financial Transactions
Void and Voidable Nikah (Marriage): Islamic Law Perspective
His Lordship has received recognitions and commendations from prestigious institutions. He speaks fluent English, Arabic, Fulfulde and Hausa. He is married and blessed with children.
Hon. Kadi Hadi Aminu was born in Kumo town, Akko Local Government Area of Gombe State on 27th May, 1968. He started his informal education of Arabic Islamiyya School from his early age to date.
At the age of 7, he attended Akkoyel Primary School, Kumo from 1975 to 1981, Government Secondary School Dukku 1981 to 1986 and in 1991. He obtained Diploma in Sharia and Civil Law at College for Legal and Islamic Studies Misau. He proceeded to Bayero University Kano and studied LL.B (Hons) Sharia and Civil Law from 1995 to 1999 and Nigerian Law School Bwari Campus, Abuja where he was called to the Nigerian Bar in 2000.
His Lordship decided not to be left behind in line with digital world, he undertook 6 months (May to October, 2009) Certificate training on Computer Studies. The Hon. Kadi also furthered his education by obtaining Master of Laws (LL.M) at School of Postgraduate Studies, Bayero University Kano from 2015 to 2017 and currently undergoing Ph.D Laws at the same University.
The Clergy who speaks English, Arabic, Hausa and Fulfulde commenced his working career as Court Clerical Assistant on GL. 03 in 1986 and rose to Assistant Registrar. In 1993 he was appointed Area Court Judge grade I on GL. 08 and puts on normal promotion to the rank of Principal Area Court Judge on GL. 12 until August, 2001 where he transferred his service from High Court of Justice to Sharia Court of Appeal as Principal Registrar on identical grade level.  He was appointed Assistant Chief Registrar (Admin and Finance) on GL. 15 in September, 2001, promoted to Deputy Chief Registrar (Appeal and Process) on GL. 16 in September, 2005 and subsequently advanced and promoted to Deputy Chief Registrar In-charge of Process and Appeals on GL. 17 from 2008 to 2014.
In 2014 to 2018 he was upgraded to Deputy Chief Registrar (Admin and Finance) and later appointed and sworn-in as Hon. Kadi of the Sharia Court of Appeal, Gombe State on 30th June, 2018 the exalted position where he is currently serving.
The Jury held various responsibilities during this schooling and beyond from 1990 to 2006; on the other hand he has attended many Seminars/workshops both national and internationally on different aspects of the Judiciary from 2001 to 2019.
Since reading, research and travelling are the hobbies of His Lordship, very interestingly.
He is happily married with children.