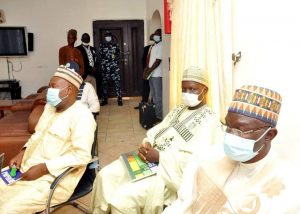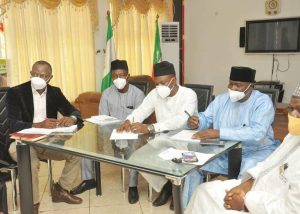 The State Deputy Governor, Manassah Daniel Jatau has again stressed that the state is blessed with vast agricultural resources that is capable of transforming the lives of the people.
The Deputy Governor gave the indication when he hosted the Chairman and Members of Agro Processing, Productivity, Enhancement and Livelihood Improvement Support( APPEALS) Project, Federal Ministry of Agriculture, Abuja on a courtesy visit in his office.
The Deputy Governor, noted that the rich agricultural endowments, if put to use, can transform the Lives of the citizenry, and give them a better livelihood.
He commended President Muhammadu Buharis initiative of APPEALS project, describing it as a welcome development, pointing out that the state government has already keyed in to the program, as the Governor has already signed the letter of commitment.
Manassah Daniel Jatau explained to the APPEALS Officials that the administration of Governor Muhammad Inuwa has deliberately prioritize health, education, and agriculture sectors, in view of their roles as basic components of human needs and development.
He further explained that, the state has three dams in Dadinkowa, Balance and Cham, an expanse of rich agricultural land,adding that, the administration has embarked on network eleven hundred and the industrial park all in an effort to make maximum use of the inherent potentials for the betterment of the lives of the people.
Speaking earlier, the Chairman, APPEALS, Federal Ministry of Agriculture, FCT, Abuja, Alh. Mohammed Njobdi, said their visit was at the instance of the Federal Minister of Agriculture, as a follow-up to the expression of interest shown by Governor Muhammad Inuwa Yahaya for Gombe to participate in the APPEALS Program.
He said, part of the requirements was for the officials to visit and interact with state officials as well as make field visits to processing sites, among others, which, according to him, is the reason why, the committee is in the state.
The Chairman, further explained that APPEALS is an acronym for Agro Processing, Productivity, Enhancement, And Livelihood Improvement Support, a program that aims at enhancing agricultural Productivity and ensuring value addition.
He also explained that the project has already started in six states in the country and Gombe State has been included in the next twelve states that shall benefit from the project.
In his remarks, the Commissioner of Agriculture, Alh. Mohammed Magaji Gettado stressed that the prospect of the project in the state is very high, viable and bright towards enhanced and sustainable agricultural growth.
The Commissioner outlined the derivable benefits to include among others, boosting small and medium scale industries, and provision of employment to the teeming youths for socioeconomic development.
Alh. Gettado said Governor Muhammad Inuwa Yahaya has already signed the document of commitment in demonstration of his resoluteness to take the state to greater heights.
Ismaila Uba Misilli
SSA Media
23 October 2020